THE KALAMKARI STORY!
Kalamkari is an ancient art which originated in the modern-day states of Andhra Pradesh and Telangana in south India several hundred years ago. 
It was used to portray scenes from sacred texts such as the Mahabharata and Ramayana. 
Kalamkari is a completely hand crafted process and a total of 17-23 steps are required to be followed to make the art of Kalamkari come to life.
These steps include dyeing, bleaching, outlining, hand painting, colour fixing, cleaning and more. Natural pigments are used to draw on and colour the fabrics during the process.
At malayitha , we follow the sri kalahasti tradition of hand painting.
Sri kalahasti is a beautiful temple town in andhra pradesh, south india.

Kalamkari painting on sarees and garments  can take up to 3-4 weeks
to complete depending on the design and pattern.
Every master kalamkari artist have their own style and creativity to implement various styles of designs and
motifs.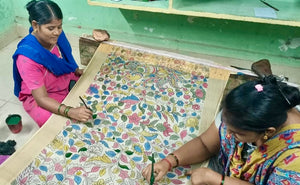 BLEACHING
OUTLINING
COLOR FILLING
Colour Filling
At Malayitha, we aim to blend modern garments with this ancient art to suit the contemporary women.
By buying our products , you help support the weavers and kalamkari artists economically and
provide a livelihood for them .
We thank you for supporting us in this humble endeavour! 
KAFTANS , DUPPATTAS & PATCHES
---